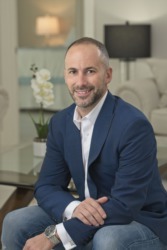 U.K. native Darren Dowling has been a proud Florida resident since 2003 and a licensed real estate agent since 2015. Real estate has long been a family business, and Darren is passionate about its many aspects, especially the opportunity to help his clients take the next steps in their lives. His reputation has earned him multiple production achievement awards, and he was voted SRQ Magazine's Best of SRQ in the REALTOR® category in 2019. He is also smart-home certified.
Darren's early real estate experience consisted of buying bulk investment properties for a company in England before he expanded into buying and selling international property and land. Darren has also launched business ventures separate from real estate, where he honed his business and management acumen. As the owner of an outdoor sporting goods sales company with a structure similar to real estate, he learned firsthand the importance of business planning, working harder than everyone else, and effectively closing sales. 
But real estate has always been Darren's true calling, and he thrives in the industry because he's determined to ensure bigger and better results for his clients. Darren creates exceptional listings; commands buyer attention through inventive marketing; and negotiates deals that give his clients the advantage. He uses his goal-setting skills and goal-driven mentality to ensure buyers and sellers achieve the highest success, whether they're upsizing, downsizing, or investing, and he provides them with top-notch service throughout the transaction. 
Competitive by nature, Darren is a three-time British national champion and Florida state champion in cycling. He still races and trains aspiring cyclists as president of the Sarasota Cycling Club. Darren is also compassionate: He supports No Kid Hungry, and, like his mother, Wendy, he is an advocate for pet foster and adoption and a supporter of local animal shelters.