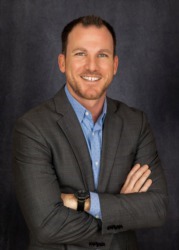 In 1986, Elijah Burress' family took refuge from the Illinois winters and moved to Port Charlotte, Florida. He's lived in the state ever since and says he's happily adopted the flip-flop lifestyle.
When Elijah became a Realtor® in 2014, the practices of the profession weren't exactly new to him. Having previously worked in sales and administration for 15 years, he found the transition seamless. He brings a passion for customer service and attention to detail to every transaction with every client. As a result, each individual receives the same top-notch treatment, from start to finish and beyond.
Elijah understands that buying or selling a home is one of the most exhilarating journeys a family or person can undertake. It's rewarding for him to be a part of that experience — he loves being a part of the client's excitement — and he believes that his sincerity, empathy, and dedication are what set him apart.
In his spare time, Elijah enjoys an active lifestyle and all that Southwest Florida has to offer. This includes beach days, fishing, riding waves, bike trails, visiting all the local eateries, and just being outside to soak up the sunshine.